NameFromContact for Microsoft Outlook 2010/2013/2016
NameFromContact has been created to change the Display Name of incoming email as you defined.
Problem
Let's suppose you have an email correspondent John Doe whose email address is 'John F. Doe' <jdoe@contoso.com>.
In Outlook you have added jdoe@contoso.com to Contacts with display name Mr.Doe.
When you send him a message, in your Sent items it displays as Mr.Doe.
When you receive a message from him, in your Inbox displays as 'John F. Doe' <jdoe@contoso.com>.

You'd like to see Mr.Doe <jdoe@contoso.com> in your Inbox items whenever you receive a message from him.
How does it work?

When you receive a message NameFromContact tool detects the sender address and searches for it in Contacts. If this address is in Contacts, a tool retrieve the Display Name from the contact item and mark the message with category. You see the name you have assigned to the sender.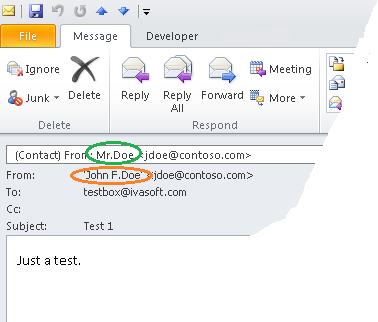 The utility is an Outlook COM add-in.
Installation
Download NameFromContact.zip archive file to any folder on your workstation and unpack it. Execute NameFromContact32.msi file and follow the instructions.


Run Outlook. Select File > Options > Add-ins and make sure that NameFromContact exists in "Active Application Add-ins" list.
Testing

Make sure you have created a contact for the external sender whose name you want to modify.


Receive a message and check if you see additional info as shown on the picture above.


NameFromContact has been tested with Outlook 2010/2013/2016 32-bit.

Uninstallation

Click Start, select Control Panel, select Programs and features, select NameFromContact in the list. Right-click and select Uninstall. Follow the instructions.
This application is free of charge if you are using it for your individual non-commercial purposes.
Unfortunately, we cannot provide support services to users of freeware IvaSoft products.
Price for commercial users

License type
Price per unit
Site license
USD 1500.00
ORDER
Share-It Customer Support center
Enterprise license (including the source code)
USD 7000.00
ORDER

All transactions are securely processed by our external registration providers
Site license covers a single organization in one location (building complex). If you purchase a site license, you may use the program in an unlimited number of your company's computers within this area.
Enterprise license covers all computers of single organization world-wide. If your company has many branches even with thousands of machines, Enterprise license covers them all.
Feel free to send us your comments and criticism.
| | | |
| --- | --- | --- |
| | Microsoft and the Office logo are trademarks or registered trademarks of Microsoft Corporation in the United States and/or other countries | webmaster@ivasoft.com |